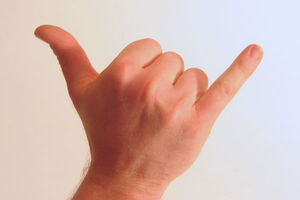 The shaka is a common greeting gesture, which consists of extending the thumb and pinky finger while keeping the three middle fingers curled, and raising the hand as in salutation. Sometimes the hand is rotated back and forth to emphasize the sign.
Hawaiian locals use the shaka for various meanings, like "all right", "cool", "smooth", etc. Residents of states other than Hawaii who use the shaka may describe it as meaning "hang loose". It is also used to convey what locals in Hawai'i call the "Aloha Spirit," a gesture of friendship and understanding between the various ethnic cultures that reside within Hawaii. It can also be use to signal "hello", "goodbye", " 'till next time", "take care", "Alright!."
Ad blocker interference detected!
Wikia is a free-to-use site that makes money from advertising. We have a modified experience for viewers using ad blockers

Wikia is not accessible if you've made further modifications. Remove the custom ad blocker rule(s) and the page will load as expected.