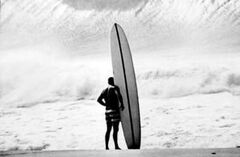 Riding Giants is a 2004 documentary film directed and narrated by Stacy Peralta, a famous skater/surfer. The movie traces the origins of surfing and specifically focuses on the art of big wave riding. Some of the featured surfers are Greg Noll, Laird Hamilton, and Jeff Clark, and surfing pioneers such as Mickey Munoz. Riding Giants won the 2004 A.C.E. Eddie Award for Best Edited Documentary.
The film begins with a historical overview, starting at its Hawaiian beginnings, then moves on to focus on the dangerous lure of big wave surfing. The documentary chronicles the evolution of riding at Hawaii's Waimea Bay in the 1950s, the revolution of lighter boards and tow-in surfing.
The film documents the exploits of three surfers:
including archival footage, fake archival footage, home movies and interviews with Dave Kalama, Gerry Lopez and Kelly Slater.
External links
Edit
Ad blocker interference detected!
Wikia is a free-to-use site that makes money from advertising. We have a modified experience for viewers using ad blockers

Wikia is not accessible if you've made further modifications. Remove the custom ad blocker rule(s) and the page will load as expected.