"IN NATURAL FLOW"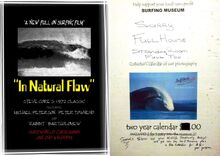 If you have grown up with stories of the freakish abilities of the great Michael Peterson, and wondered if the tales had grown somewhat taller in the retelling, you need to get yourself down to Surfworld Gold Coast, Friday, January 2.
Given the scarcity of quality footage of Peterson, who dominated Australian surfing in the '70s then vanished into a twilight world, younger surfers might be inclined to think his peers have exaggerated the stories of his feats.
Yet the proof is in the watching for any fortunate enough to clap eyes on Steve Core's classic 1972 surf movie, "In Natural Flow".
"In Natural Flow" captured the turning of an era, as the giants of the '60s disappeared into the Byron Bay hinterland in search of enlightenment.
Into the breach stepped a new generation of hyper-competitive youngsters hellbent on taking over the surfing world. Core was right in the thick of it and captured many of these budding young talents as they bloomed.
As well as the great MP, there's Peter Townend, a very young Rabbit Bartholomew (briefly), Simon Anderson, Col Smith, Andrew McKinnon and many others, putting the evolving shortboards through their increasingly radical paces.
While "Morning of the Earth" won over audiences with its celebration of soul surfing and counter culture, it was "In Natural Flow" that identified and documented a new generation of Australian surfers who would pave the way for the professional era.
"In Natural Flow" also captures vintage Kirra in all its glory, a natural wonder that a younger generation of Gold Coast surfers have never experienced first-hand.
The tube-riding of Michael Peterson and Peter Townend in particular set a new benchmark in performance surfing that helped catapult Gold Coast surfers on to the world stage.
With sensational cameos from Peter Drouyn, Richard Harvey, Keith Paull, Andrew McKinnon and many other greats of the era, "In Natural Flow" illuminates a pivotal era in Australian and Gold Coast surfing.
MUSIC TRACK: "SLINGSHOT" - 'The Black Seeds' www.theblackseeds.com
Ad blocker interference detected!
Wikia is a free-to-use site that makes money from advertising. We have a modified experience for viewers using ad blockers

Wikia is not accessible if you've made further modifications. Remove the custom ad blocker rule(s) and the page will load as expected.