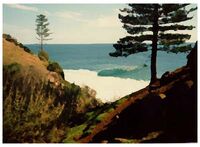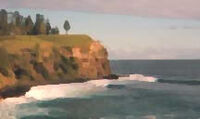 Barney Duffys is a surf break on Norfolk Island, an external territory of Australia, situated in the South Pacific.
The break is named after a man who escaped the convict settlement and lived in a hollow tree. According to the legend, seven years passed when one day he was discovered, caught, and led back to the gaol where he was hanged. Not two months passed when the two soldiers responsible for his capture went missing. They had gone fishing on the west coast and fell prey to the curse Barney Duffy laid on them when they turned him in.
Ad blocker interference detected!
Wikia is a free-to-use site that makes money from advertising. We have a modified experience for viewers using ad blockers

Wikia is not accessible if you've made further modifications. Remove the custom ad blocker rule(s) and the page will load as expected.